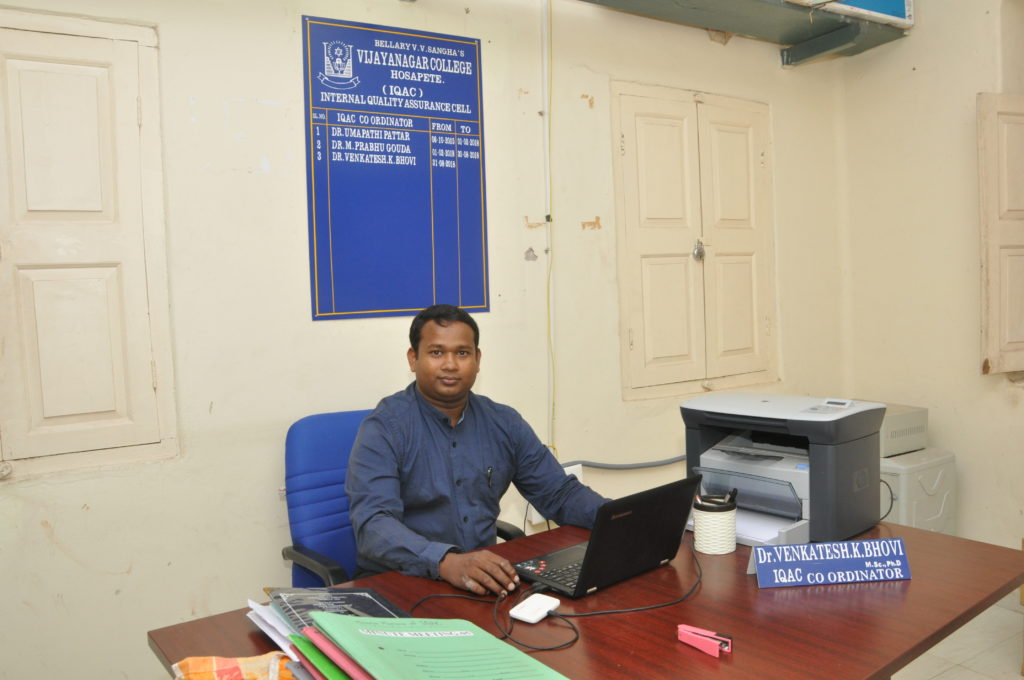 Dr. Venkatesh K Bhovi M.Sc., Ph.D. PDF(Finland, IITM,KUD)
Assistant Professor of Chemistry  IQAC Coordinator
According to the New guide lines given by NAAC, our college established Internal Quality Assurance Cell (IQAC) on 27th September 2004 since then, Prof. Arvind Nadahalli was the coordinator of IQAC, he has served for nine year, later Dr. Umapathi Patter, Dr. M Prabhugouda and following by currently Dr. Venkatesh K Bhovi Asst. Professor of Chemistry is working as a coordinator of IQAC since 2018. Our College is one of the reputed College in the Hyderabad-Karnataka, We are extremely focused on various policies related high quality education, edify of educationally backward class students and infrastructural development are created and executed through IQAC.
IQAC documentation wing where smooth functioning of the college activities where monitored, especially in maintaining of standard quality education execution of planned curriculum and co curriculum activities. The IQAC Committee has been formed as per NAAC recommendations for IQAC Constitution. Our IQAC is a full functioning body. Some of responsibility of IQAC were performance evaluation, assessment through different stock holder, maintains of documents, action take for improvements, the meetings of IQAC has to conducted periodically and Proceeding of meetings are well maintained. The Action Taken Report (ATR) has to prepare at the end of every academic year. The Annual Quality Assurance Report (AQAR) is to be prepared and submitted to NAAC Office, Bangalore in stipulated time period in every year.
Since quality enhancement is a continuous process, the IQAC will become a part of the institution's system and work towards realization of the goals of quality enhancement and sustenance. The prime task of the IQAC is to develop a system for conscious, consistent and catalytic improvement in the overall performance of institutions. For this purpose, during the post-accreditation period, it has channelized all efforts and measures of the institution towards promoting its holistic academic excellence.