Political Science
The department was established in 1964. The department offers opportunities for the education and research in a wide spectrum of areas in Political Science.
Such as: Political Administration, Western Political Thinker, Indian Political Thinker, International Relations. The department also contributes all types of competitive examination, learning programs of the professional social works. The department is committed to train the students to make the motivate and dedicate good administrative officers.
 Sri.Hemappa, Sri. S.B Jogalekar, Smt. Prema and Sri. Veerappa these faculties retired from our college. The department at present has Smt. B.S Hoovakka, permanent faculty with 2 energetic and dedicated guest members in many diverse area of Political Science, Local Administration a good number of distinguished Political Awareness every year.

Constructional Day 26/11/2021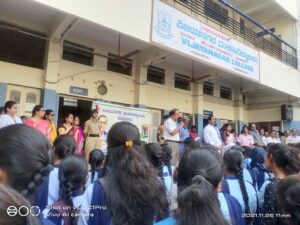 Voters Day 25/01/2022